Details: Focus on Ryosan

Growing need for technical capabilities
In order for both electronics manufacturers and electronics component manufacturers to trust us, we need to provide them with specialized information and support related to existing electronic components. However, that is definitely not all we need to do to gain their trust. We need to have sufficient technical capabilities to suggest systems to electronics manufacturers in their product planning or design phases by adding our unique ideas and creative measures to state-of-the-art technologies.
Industry-leading engineers with a high level of expertise
In the past, the leading commodities in the electronics industry were electronic components with simple functions, such as vacuum tubes, transistors, and ICs. On the other hand, semiconductors, which are the current leading commodities, have evolved into highly integrated electronic components with many functions, such as LSIs and super LSIs.
To provide the best technical support under these circumstances, we need to have a deep understanding of our customers in order to identify their needs appropriately, not to mention a high level of expertise.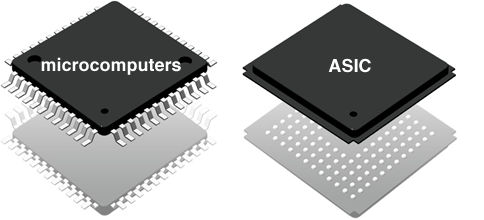 Above all, when handling system LSIs such as microcomputers and ASICs,* the key lies in how to realize the product features and functions the customer is aiming at through design and programming.
At Ryosan, we appoint experts with extensive knowledge of particular products to be "Product-Specific Sales Representatives." We also have Field Application Engineers (FAE) and engineers in charge of development. We therefore have established a system to provide strong technical support, under which we make sure we thoroughly understand customer needs and provide the best designs and software development by making use of our expertise.
We boast a team of industry-leading engineers. We help customers develop products using our strong technical capabilities and the know-how we have accumulated through many years of experience.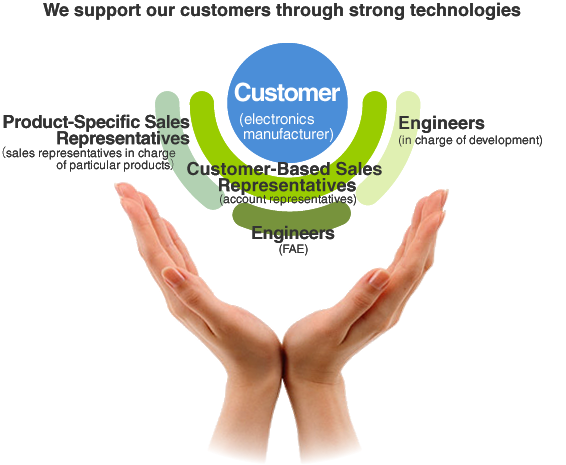 *Microcomputers and ASICs: These look similar to each other, but while microcomputers are standard products with broad applications that are driven by programs, ASICs need to be designed and customized to have the desired functions. At Ryosan, we have an extensive track record in designing both ASICs and programs to drive microcomputers.
For more specialized details, contact the link below.