Basics: A comprehensible guide to electronics trading companies

Electronics manufacturers' status as customers
Electronics manufacturers do not make everything.
You might be under the impression that electronics manufacturers* manufacture and distribute their products all by themselves.
In actuality, however, many of their product components are manufactured by electronics component manufacturers and delivered by electronics trading companies. Electronics manufacturers accumulate these components, develop and assemble the products, and add their brand values to the products before marketing them.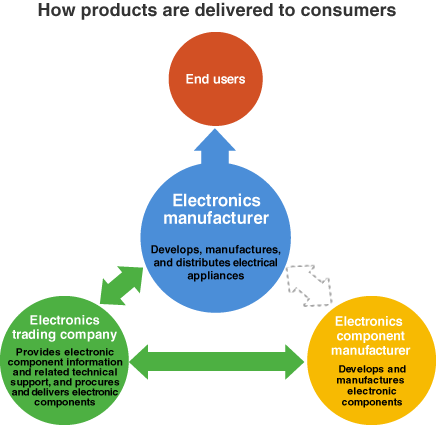 Changing business methods in response to the increasing sophistication and complexity of electronic components
So why don't electronics manufacturers make all their electronic components themselves?
The electronics industry is undergoing constant technological innovation. Electronic components are growing increasingly sophisticated and complex. This has made it difficult for electronics manufacturers to make all the necessary electronic components on their own.
It is also becoming more difficult for an electronics manufacturer to develop products using these sophisticated, complex electronic components just with its own technologies. Therefore, nowadays many manufacturers receive technical support for part of the development process from the electronics trading companies that specialize in the field.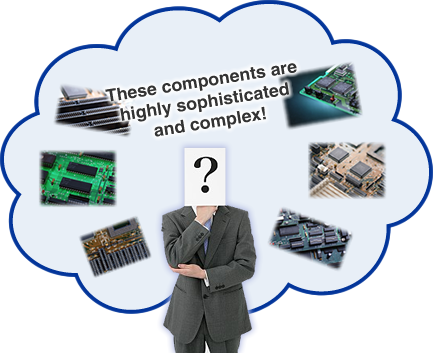 The role of electronics trading companies and the problems electronics manufacturers face
There are a lot of problems involved in handling electronic components.
Before an electronics manufacturer puts a product out into the world, an electronics trading company plays a significant role in the process. However, it is hard to summarize the role played by electronics trading companies because it covers a broad range of highly technical matters. Therefore, let's see "what would happen if there were no electronics trading companies" by focusing on "the problems electronics manufacturers face."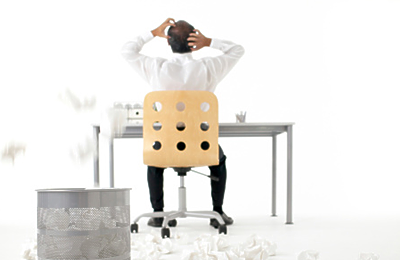 Workload problem (the large number of components and trades)
Let's use a smartphone as an example. You could say that a smartphone consists of a bunch of electronic components. A standard smartphone has 700–800 electronic components.
If it weren't for electronics trading companies, a smartphone manufacturer would have to negotiate with every single component manufacturer in order to procure the components. It would be a daunting task to negotiate and discuss details with such a huge number of electronics component manufacturers.
An electronics trading company handles this entire process—from suggesting the electronic components that meet the requirements of the electronics manufacturer that is its customer, to negotiating with component manufacturers and delivering the components—thereby eliminating the "workload" problem faced by electronics manufacturers.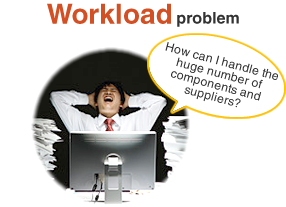 "Delivery management" problem
As the smartphone example above shows, these days every single electrical appliance consists of a considerable number of electronic components. It is actually extremely hard to negotiate the details of all of these components, procure them in the specified quantities, and meet deadlines. A delay in the delivery of a single component will greatly affect production and release schedules. Accordingly, delivery management is an important task. It is also one of the most risky and nerve-wracking jobs.
Also, a problem may occur in the manufacturing process. For example, it is not unusual to see a huge change in the initial production plan, such as increasing production in response to a change in demand, which results in a sudden increase in the number of components that need to be procured.
In this case, an electronics trading company will use its own inventory of components to continue to accommodate the demand from the electronics manufacturer for a certain period of time. In the meantime, it will negotiate with electronics component manufacturers to increase the amount of supply. It therefore serves as a coordinator to enable the electronics manufacturer to ensure steady production.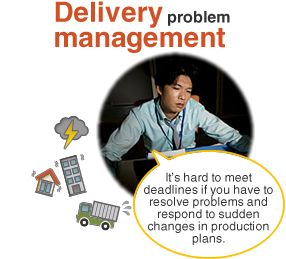 Component procurement problem associated with transferring production overseas
In recent years, electronics manufacturers' manufacturing bases have expanded from Japan to other countries around the world. Transferring production overseas causes problems regarding the procurement of electronic components. Transporting components from Japan to an overseas country or between overseas countries is more problematic and time-consuming than transporting them within Japan. An electronics trading company's logistics management and coordination functions are helpful in these cases.
The demand for electronic components at each manufacturing base of an electronics manufacturer changes on a daily basis. To prevent production from being interrupted under these circumstances, an electronics trading company arranges details by meeting with the electronics manufacturer to ensure that the necessary components will be delivered under the best conditions to the places (countries or regions) where they are needed when they are needed, while properly adjusting its inventory of components. This supply chain coordination is an important task of an electronics trading company.
Therefore, the basic role of an electronics trading company is to mitigate the various problems faced by its customer, the electronics manufacturer. At the same time, it is also a kind of coordinator that serves as an intermediary between electronics manufacturers and electronics component manufacturers to establish the best possible relationship between them.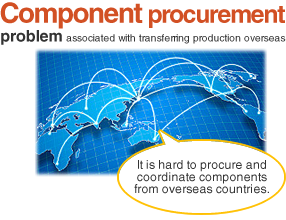 Technical problems (related to sophisticated, complex components)
It is extremely difficult for an electronics manufacturer to collect information about all the new products and technologies that are coming out every day. It is also extremely difficult to become familiar with all the functions of electronic components, because the majority of components these days are highly sophisticated semiconductors,*which integrate a variety of functions.
With specialized knowledge in each one of these electronic components, as well as the latest technologies and product information, an electronics trading company supports an electronics manufacturer in terms of knowledge, technologies, and information as an important partner.
*Highly sophisticated semiconductors: Electronic components have been evolving into highly integrated semiconductors such as LSIs and super LSIs.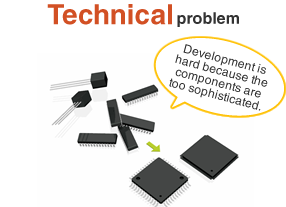 What is required of electronics trading companies today
What are the required roles of electronics trading companies, which do more than purchase and sell components?
Electronics trading companies play a variety of roles, which include more than just purchasing and selling components.
Currently, each company in the electronics industry promotes selection and focus.
Therefore, electronics trading companies are expected to have a high level of expertise, so electronics manufacturers can feel secure when asking them for technical support for the parts of the development process they find difficult to handle by themselves. Trading companies are also required to offer a wide array of products, so a manufacturer can procure as many components as possible from each one of them.
Because of these customer needs, it is considered important for electronics trading companies to have technological capabilities that enable them to support their customers in upstream product development. They need to evolve from mere distributors into "engineering trading companies." To this end, electronics trading companies should get to know their customers better and consider what services customers will need from their points of view. Being able to provide the appropriate services through these efforts is required in order to become the "trading company preferred by customers."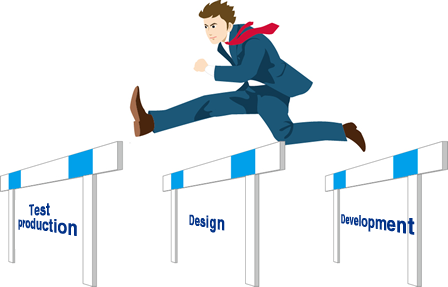 Completing each process in cooperation with an electronics trading company