Three core functions are essential for Ryosan's aim to become an electronics systems coordinator. They are the Information Function, which refers to the supply of data; the Solutions Function, which entails the supply of technology; and the Distribution Function, which covers the supply of logistical services. We are convinced that by constantly evolving these three functions, we will raise the level of customer satisfaction and enhance our value.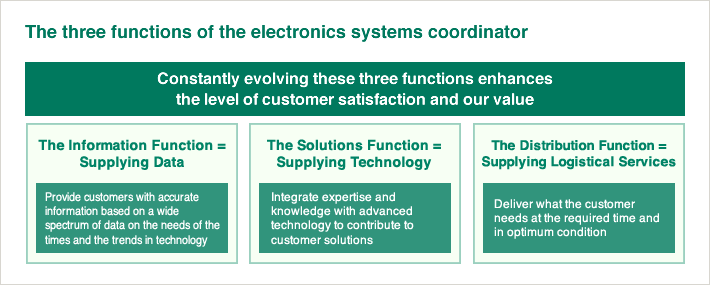 In the days of "if it's on the market, it can be sold," intermediary sellers acted as selling agents for product-oriented suppliers. Business was, of course, done within the sales agent's framework of vertically integrated sales channels. However, times have changed and we have now arrived at a time of "selecting and selling better products." Ryosan has shifted its axis from conventional "product-oriented ideas" to "market-oriented ideas," developing the business while constantly considering how to satisfy customers. To meet customer needs, we believe that it is the role of Ryosan to accurately understand global products and technical information, including the wide variety of suppliers, and to take a hands-on approach to timely information provision.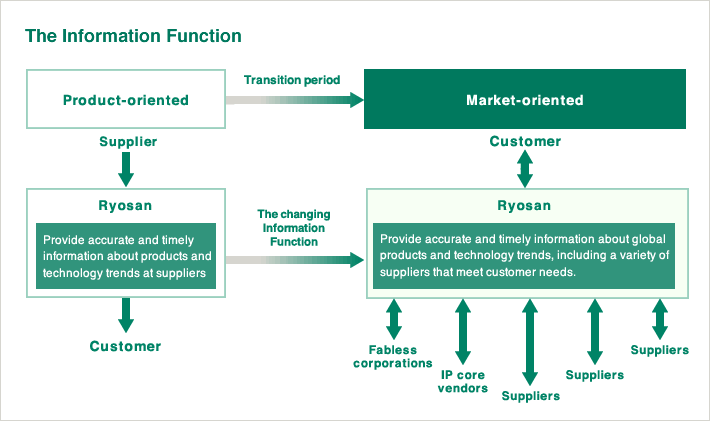 「As technology grows increasingly sophisticated, Ryosan's artillery of technology is also steadily evolving. With the changing times and increasingly sophisticated technologies, Ryosan has boosted its proprietary technical development capability to provide customers with more satisfactory solutions based on technical support that closes the gap between the former main axes of "supplier" and "customer."
Established in the 1970s, our engineering department of about 250 engineers now has the highest number of engineers among Japanese semiconductor firms, and we have established engineering centers in Asia including Japan, China, Taiwan and Korea. We are leveraging technical knowhow (product technology, component technology, development technology) and systems technology built up over many years to contribute to customer product development through collaboration with local design houses and by other means.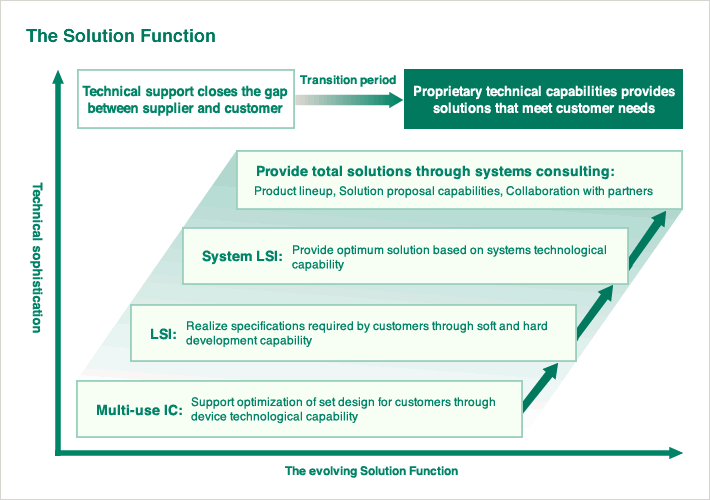 Ryosan believes that distribution services are the starting point for systems coordinators. As a result, we are constantly thinking about the ideal distribution services, and working on improvements and reforms. Seeking speed, attention to detail, and cost efficiency, we aim for ways to organically integrate automated warehouse and information systems to respond to diversifying and sophisticated customer needs. In particular, what people should do and what machines should do have been perfectly combined at the Kawasaki Comprehensive Business Center to realize an enhanced distribution service in search of efficiency and the highest standards.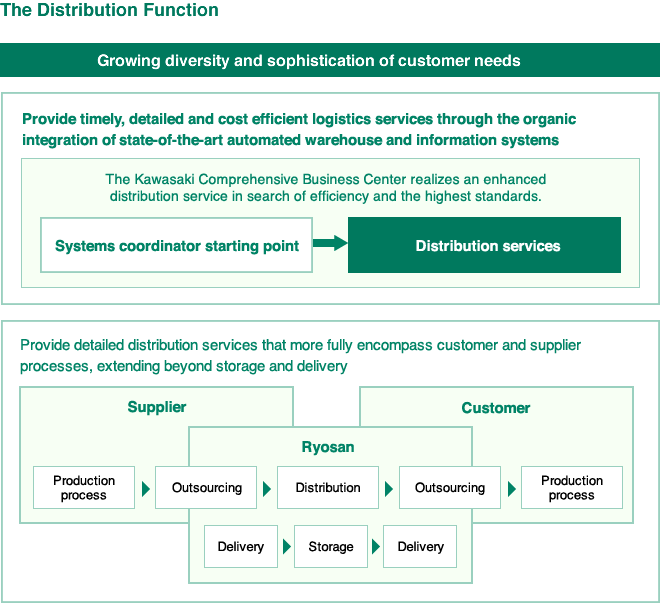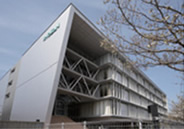 The Kawasaki Comprehensive Business Center at MICOM City in the Kuriki district of Asao Ward in Kawasaki City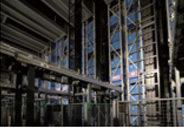 Bucket-style automated warehouse used for storing products.