Establishing a strong relationship of trust with customers
A fundamental element of business is the strong "relationship of trust" you build with your customers, regardless of what kind of business or merchandise you have. Of course, this also applies to the electronics industry, aside from the special characteristics of the merchandise we handle, which are electronic components. Since Ryosan was founded, we have taken an uncompromisingly customer-oriented approach and have maintained a strong relationship of trust with our customers over a long period of time.
Our Customer-Based Sales Representatives (account representatives) attend to customers by managing their entire operations, which includes troubleshooting as well as sales activities, the acceptance and issuance of orders, coordination, and delivery management.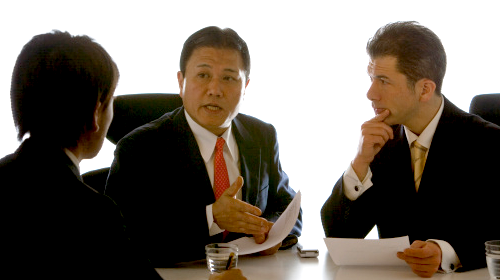 Ryosan's unalterable DNA
An electronics manufacturer customer once told us that "Our office has a chair dedicated to Ryosan." They said, "If we ever have a problem and look around our meeting area, we can always find a Ryosan sales person." Maybe it's too much to call it a "chair dedicated to Ryosan," but this proves how close we were to the customer.
We also tell our salespeople that "a salesperson should provide any service a customer could ask for." Therefore, we have always been customer-oriented.
Now we don't visit our customers as frequently as before due to tight security and advanced communication tools such as e-mail and mobile phones. However, even though times have changed, we remain close to our customers, and are ready to give them comprehensive support. We maintain this spirit of providing customers with meticulous service by addressing customer needs deeply instead of superficially. This unalterable DNA of Ryosan has been passed down.
Factors that support Ryosan's DNA
However, our sales capability is not the only element that allows us to gain the trust of our customers. We can truly earn their trust only when we provide them with the high-quality electronic components they demand. At Ryosan, we have established the same strong relationship of trust with electronics component manufacturers that we have with our customers. As a system coordinator in the electronics industry, we therefore help create strong ties between electronics manufacturers and electronics component manufacturers.