We are the resident of the planet called earth all through the life. However, such should not be construed as the earth is the belongings only to those living in the present.
Our children, children's children and offspring well into the future will continue to live here in this earth. With that regards, the earth is a sort of property under our custody from the remote offspring and future.
What current people should recognize firmly is that we share this earth of ours with the people in the future.
For instance, by our thriving to be abundant at present, the coming era for our descendant could be sour and severe. It is our duty who could be possible ancestor in the future, preservation or upkeep of the environment necessary for the survival of human race.
Ryosan, as the public vehicle, fully recognize such and making effort in every way, always paying attention to environment.

1.

As an electronics systems coordinator, we are involved in the trading of of semiconductors, electronic components, electronic devices and other equipment. We also engage in software development, electronic circuit design and surrounding services therewith and are committed to promoting a variety of measures for the prevention of global warming and preservation and sustainable utilization of biological diversity.

2.

We strictly comply with all applicable environmental laws and regulations, as well as other environmental requirements (agreement, guideline and etc.) agreed upon by the Company.

3.

We review all environmental preservation objectives periodically and promote the continuous improvement and preventive measure for pollution.

4.

We promote the following activities:

(1)

Promotion of saving of resource and energy

(2)

Promotion of cyclical type business activity (waste reduction, recycling, green procurement and etc.)

(3)

Co-work with the customers and suppliers in the management of chemical substances in products

5.

We educate all the staff within the Company with this policies and promote the environmental consciousness and the penetration of this policy.

6.

We broadly publicize Ryosan's environmental policies and swiftly disclose environmental information to stakeholders request.


Ryosan acquired ISO 14001 certification in 2003 and is engaged in the promotion of environmental management activities. Acutely aware of the importance of global warming prevention and biodiversity, the Company actively strives to reduce the environmental footprint of its activities across all operating fields. Instructions, which are revised by the president each year, form the basis for reviews of activity domains conducted by the officer in charge of environmental management and the operations managers of each division and department. Through these means, every effort is made to enhance the efficacy of activities.
A major review of the Company's guidelines was conducted in 2010. In addition to updating Ryosan's environmental policies, steps were taken to establish medium- and long-term goals.
| | |
| --- | --- |
| Certification standard | ISO14001:2015 |
| Certification body | Japan Quality Assurance Organization (JQA) |
| Registration code | JQA-EM3334 |
| Registration date | August 22, 2003 |
| Last renewal date | August 22, 2018 |
| Expiry date | August 21, 2021 |

The Third Environmental Protection Plan for the Medium and Long Term established in FY2015 has come to an end, and the Company has embarked on the fourth round of the medium- and long-term plan beginning in FY2018. Fourth Environmental Protection Plan for the Medium and Long Term was started in the 2018 fiscal year. Due to the achievement of goals set in the third medium-term plan, the fourth plan has set new medium-term goals, with the long-term goals set in the third plan retained.


Ryosan believes that the activities of each employee based on environmental awareness constitute the most important element of its environmental activities. In an effort to raise environmental awareness, the Company conducts annual environmental education programs for its employees and tests them to check how much they have learned.

As stated in the medium-term goals, management of chemical substances in products is of the utmost importance within the Company's business-related initiatives. Amid the growing compartmentalization of chemical substance information imposed by such wide-ranging regulatory requirements as Europe's registration, evaluation and authorization of chemicals (REACH), Ryosan is engaging in thoroughgoing management in collaboration with suppliers based on clearly defined Green Procurement Guidelines and the publication of Green Procurement Criteria Operating and Procedure Manuals.


1. Greenhouse (CO2) Emissions
Working toward global warming prevention through a range of continuous efforts, such as introduction of energy-saving equipment (energy-saving HVAC, LED lighting, etc.) and implementation of eco-friendly driving measures, Ryosan is striving to reduce its output of greenhouse gases (principally CO2).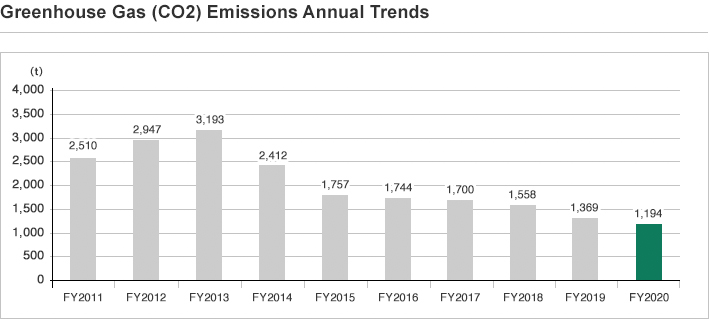 2. Electricity usage
Ryosan is moving forward with the systematic introduction of energy-saving equipment. All employees within the Company are also working together to downsize electricity usage through the implementation of measures such as "business casual" dress policies, turning off lights in unused areas and during break times, and turning off office equipment frequently.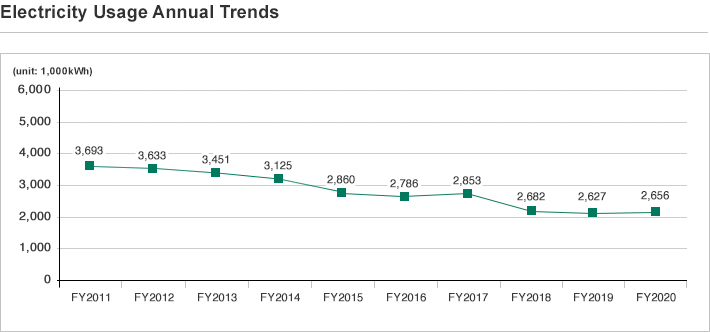 3. Gasoline usage
Ryosan is working hard to decrease its gasoline usage through the introduction of eco-friendly driving practices such as reducing sudden acceleration and deceleration and turning off engines when stopped. The Company has also increased the ratio of hybrid vehicles in its fleet to 10%.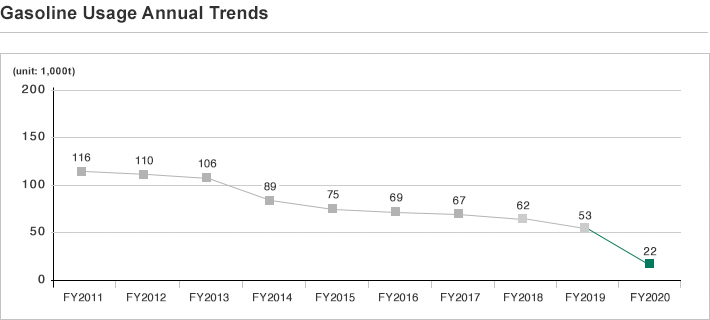 4. Gas usage
The Company's main application for gas usage consists of HVAC at Kawasaki Distribution Center. Due to the effects of the climate and work operations in FY2017, total usage was up 14.7% compared to the previous fiscal year. As with electricity usage, Ryosan is striving to operate HVAC efficiently.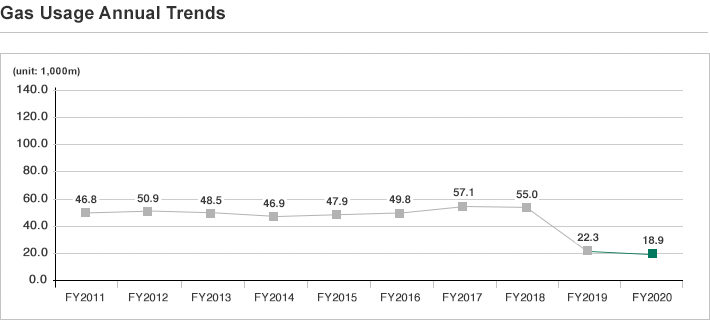 5. Copy paper consumption
The Company is making strides in reducing copy-paper consumption, primarily by thoroughly implementing paperless management, use of both sides of printed paper, copy-size reduction, simultaneous processing of multiple jobs and double-sided printing.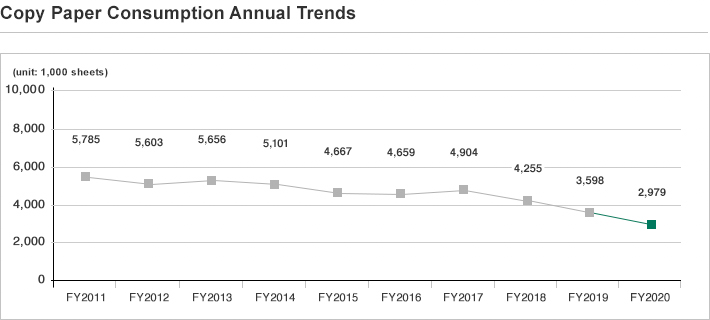 6. Recycling Ratio
The Company is working hard to boost its recycling rate. To ensure reuse of furnishings and utensils that have become unnecessary, we sell or gift these items as used products. Ryosan strictly implements sorting of trash. When discarding large volumes of trash, we dispose of it as recyclable resources.